The Coventry Dresden Cope - From Painting to Vestment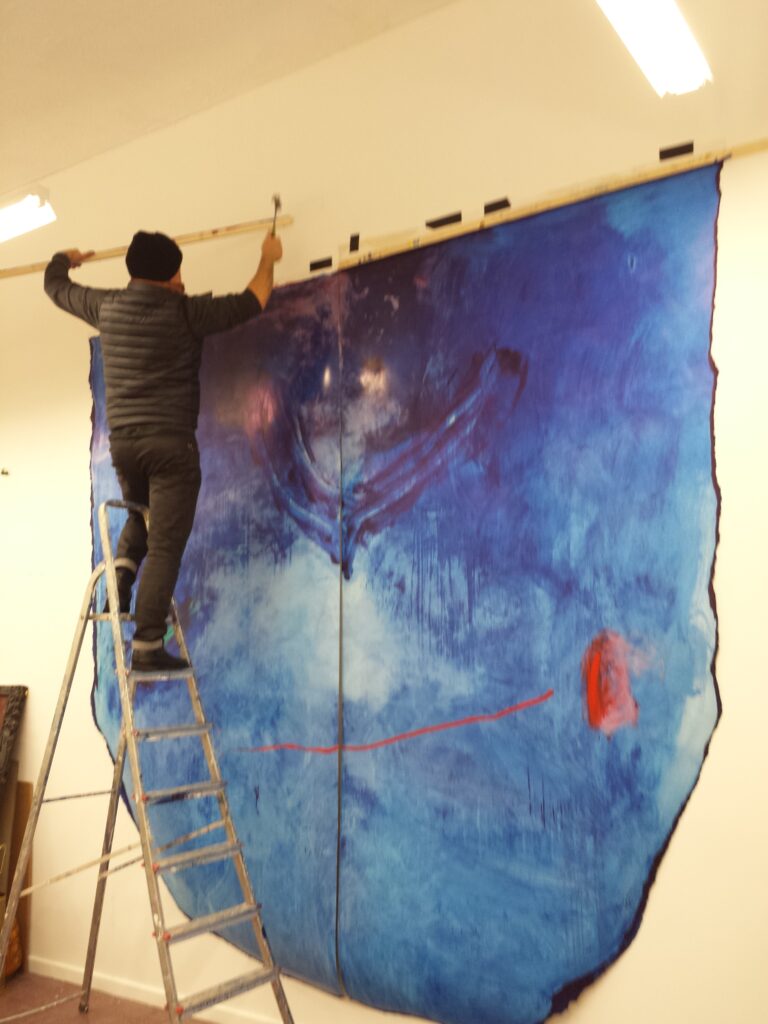 On 1st March 2017, Ash Wednesday, the Bishop of Coventry dedicated 'The Coventry-Dresden Cope', a new vestment to be worn for commemorative occasions by those involved in the work of Reconciliation and the Community of the Cross of Nails in Coventry and in Dresden. 
Duffy presented the cope to Coventry Cathedral on Ash Wednesday. The Bishop of Coventry dedicated it to begin the season of Lent. The Coventry Dresden Cope is unique, a liturgical landmark artwork and vestment. It is the first church vestment to be made using real images, a photomontage of images from both Coventry and Dresden. Prior to this vestments traditionally only used symbols or icons often depicting more the wealth and status of wearer than the context and commemoration.
The design bears striking images of the aftermath of the bombings of both cities during World War Two as well as images of reconciliation and rebirth through the images of the rebuilt Fraukirche, the sculpture at Coventry of St Michael rising over the devil and the image of the German soldier helping victims shortly after the bombing in Dresden. The design also includes the symbols of the Community of the Cross of Nails, whose ministry of reconciliation unites Coventry Cathedral and the rebuilt Frauenkirche in Dresden with many other churches and centres around the world. The words 'Father Forgive' in English and German underpin the imagery. This is also a radical departure emphasising more context and message than the liturgy.
In 2015 as the result of a conversation with the Bishop of Coventry in Dresden Duffy developed the concept of this cope from a cope shaped artwork he had created for Coventry and Dresden. He began to investigate the possibility of how it could be worn. In 2016 and 2017 he created the Coventry Dresden Cope vestment you see today which is a striking unique photo-montage combining not only the original painting but also the vast 'Victim, no resurrection' crucifix painting and archive images of the two cities before and after the bombings.
Commenting on the dedication, artist Terry Duffy said that, "It is no easy task wearing this cope. It is a direct demonstration of truth, reality and reconciliation. By wearing it, the wearers are seen by all, to be carrying the cross and the guilt of what happened on their backs. It demonstrates how serious they are about addressing and challenging truth and reality to acheive greater long lasting reconciliation." Like the St James bible being published in English spreading the word of God to everyone in their common language this cope democratises how truth and context is portrayed. Not through symbolism emphasising the context of the liturgy but through truth and reality in a visual language that is understood across cultures, divides and conflicts.
Duffy further added that when he created the original painting he wrote on the studio wall beside it: "Whoever wears this has the power to change minds". He explained, "these words were not meant as the painting providing some super powers but by wearing it demonstrating opportunity for greater democracy to our understanding of truth and reconciliation. The Coventry Dresden Cope vestment now creates this opportunity. The wearers will carry on their backs the truth and reality of what happened."
The Cope is presently on display at the "Very British – Ein deutscher Blick" at Haus der Geschichte in Bonn from 10th July 2019 to 8th March 2020
The complex and thought provoking photomontage was created in collaboration with the photographer Mark Howard. The manufacture and tailoring of the cope was undertaken by Alison Carey Williams.  Terry Duffy c2018