The Coventry Dresden Cope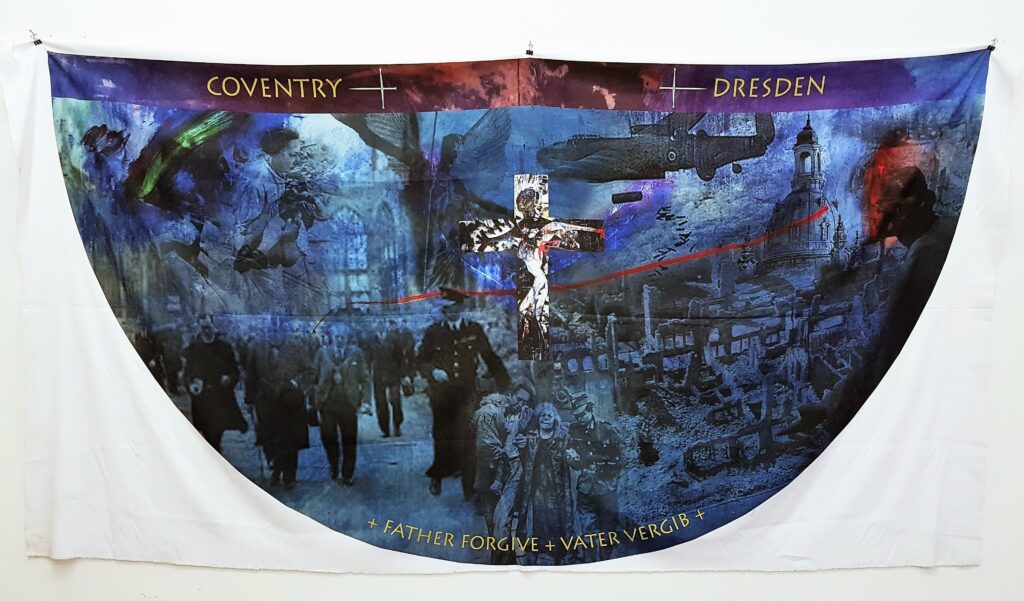 'The Coventry-Dresden Cope', a vestment to be worn for commemorative occasions by those involved in the work of Reconciliation and the Community of the Cross of Nails in Coventry and in Dresden.
The cope was the first in a series of copes: WW1 Remembrance Cope, The Windrush Cope, The Desmond Tutu Cope. They are unique liturgical landmark artworks. The first church vestments to be made and worn using real images, not religious symbols.
The Coventry Dresden Cope is a challenging photomontage of images from both Coventry and Dresden during WW2. Striking images of the aftermath of the bombings of both cities as well as images of reconciliation and rebirth. The design also includes the symbolic cross of the Community of the Cross of Nails. The words 'Father Forgive' in English and German underpin the imagery. This is also a radical departure emphasising a contextual message. At the centre of the design is 'Victim, no resurrection' crucifix painting in remembrance of victims everywhere.
"It is no easy task wearing this cope. It is a direct demonstration of truth, reality and reconciliation. The wearer is seen by all, to be carrying the cross and the guilt of what happened on their backs. It demonstrates how serious they are about addressing and challenging truth and reality to achieve greater long-lasting reconciliation. Similar to the 16th century St James bible being published in English spreading the word of God to everyone in their common language this cope, and the others from the series, democratise how truth and context is portrayed. Not through religious symbolism but through truth and reality in a visual language that is understood across cultures, divides and conflicts.
The complex and thought provoking photomontage was created in collaboration with the photographer Mark Howard. The manufacture and tailoring of the cope was undertaken by Alison Carey Williams.  Terry Duffy c2018